"Ishinha / 維新派"
Japanese / English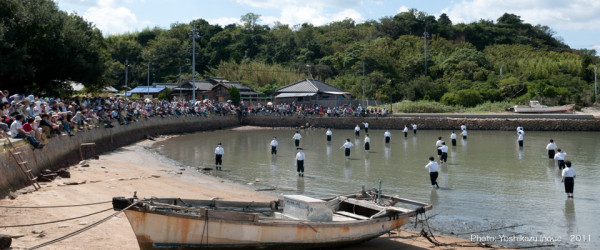 Ishinha is a theatre group based in Osaka.Their style "Jan-Jan Opera" has been established since their play "Shonengai" in Shiodome, Tokyo in 1991.     Jan-Jan refers to the old working class district of Osaka where Ishinha is based. Their style is removed from traditional Japanese opera, centralising instead in the Osakan dialect and intonation creating an "Osaka Rap" that carries a highly urbanised and modern cadence. Most of the lines are broken down into single words and performers speak in Osakan dialect with an irregular tempo. This is the reason why it is called Opera. Ishinha believe that using an irregular tempo, rather than a regular four beat rhythm like Classical and Pop music, is the best way to show people what the Osakan dialect is like. Not only do they use Osakan dialect, Ishinha also use other Japanese dialects from several districts such as Kishu and Ryukyu as well as other languages such as Russian, Chinese, and Spanish. They also create their own language.
    Not only is their speech style special, but their dance/movement is also difficult to define. The motion which is based on irregular tempo might be restricted and simple on the surface but by using many precise movements the motion is like  a clockwork mechanism. When more than 30 performers are moving this way it has a celestial effect, like stars or another universe.In addition, they use "Chu-goshi" which you can see in the traditional Japanese performing arts. This style reflects the special characteristics of the way that Japanese move their bodies.
Ishinha is categorized as a theatrical performance, however there are other components. It's a multi media performance with huge realistic sets, they also use Road Movie techniques, stage film like close-ups as well as other cinematic techniques that lead to audience to feeling like they are watching a movie.
They have been consistently performing original pieces based on themes of "Emigration" and "Drifting" in various locations since their foundation.
Their attitude shows that they adapt to the times, rather than sticking with one style of expression.
From vacant lot to vacant lot
one of the most attractive points of Ishinha is their huge open-air sets. A total of 50 staff including the performers spend 50 to 60 days on the construction.
Similar to a touring carnival they build the stage, audience seats, and front of house in a vacant space. After the performance, they clear the space without any trace. It shows their strong fascination with the unreal-world.
They prefer the open-air theater because the performance can not be played again. It is truly a one-of-a-kind performance.
Some of these open-air places include,"Mugiwara-Shonen" in Kumano Hongu Taisha, in Wakayama, "MAREBITO" in Inujima Island, in Okayama, "Keaton", "Mampu" in Nankou, Osaka and"Twilight" in Nara.
Ishinha always takes in to careful concideration each open-air location. The background is not just borrowed scenery, it becomes part of the composition of the set.